Ranch Rail Fencing in Kansas City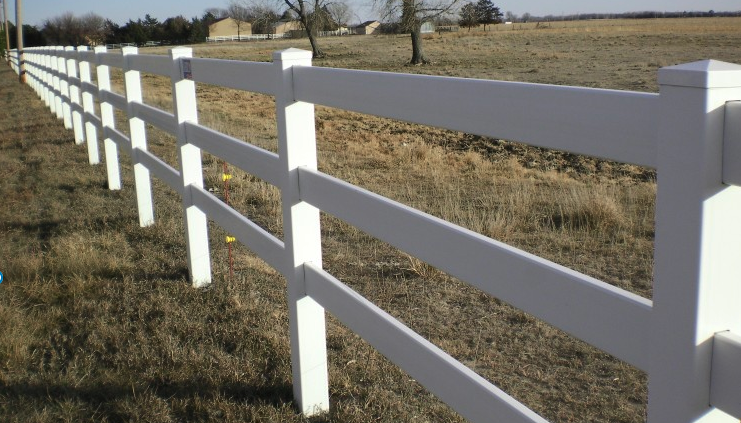 Ranch rail fencing has been a staple of rural property in North America going back generations. In the days when homeowners installed fences mostly to distinguish property lines (security became the dominant function later on), these simply designed barriers were preferred by farmers and ranchers because they don't require excessive amounts of lumber and could be easily assembled. (The original DIY fence, if you will.) Ranch rail fencing quickly proved efficient for containing livestock—as the animals can brush up against the fence without escaping or suffering injuries.
FOR A FREE ESTIMATE ON RANCH RAIL FENCING IN KANSAS CITY:
Should I get wood or vinyl ranch rail fencing in Kansas City?
The function and appeal of ranch rail fencing persists today, and one commonly finds them installed at farms, ranches, and cottages. In the old days, they were fashioned exclusively from wood but now are available in other materials such as vinyl. In fact, many fence contractors—including AmeriFence Corporation of Kansas City—recommend vinyl over wood, as it comes with a number of distinct advantages.
Vinyl is stronger than wood. Did you know that high-quality PVC boasts strength five times that of wood? Whereas wood fencing typically needs several replaced parts and panels—sometimes even the entire fence must be taken down and replaced—during the lifetime of its owner, vinyl ranch rail fencing is engineered to last. This means your fence can endure changing conditions as the seasons cycle. Even when it's blistering cold, the only change you should notice is panels becoming more flexible. Provided your fence isn't then struck with an abnormal amount of force, it should remain intact and become rock-solid again with the return of warm weather.
Water resistance. Vinyl is immune to one of the difficulties inherent in maintaining a wood fence long-term. Throughout the year, as a wood fence is exposed to morning dew, rain, sprinkler spray, water absorbs into and accumulates inside. When the temperature changes, the absorbed water expands and contracts, pushing apart the insides of the wood fence panels. This is frequently what creates those eye-sore knots, holes, and cracks; to prevent this phenomenon, fence owners often need to paint and stain (and often re-paint and re-stain) their panels, sometimes yearly. This results in costs that add up in the long run. Vinyl, however, is nonabsorbent. Water simply runs off it.
Longevity and Elegance. Part of the reason behind vinyl ranch rail fencing's enduring popularity is its elegant, inviting appearance. What's more, vinyl holds onto its natural beauty much longer than wood, keeping its original color throughout its lifetime. Aside from a slight reduction in its natural sheen, you shouldn't notice any significant changes with the passage of time.
Lack of insect damage. In addition to weather, one source of natural damage that wood fence owners sometimes must contend with is that caused by insects. Certain species such as termites and carpenter ants love to feast on this particular type of fencing. Vinyl, however, is not on these insects' diet.
I'm looking for vinyl ranch rail fencing materials in Kansas City. Where can I purchase them?
Whether you're a contractor or a DIY homeowner, if you need materials to build a vinyl fence in Kansas City, look no further than AmeriFence Corporation. As the #1 fence company in Kansas City, we maintain an inventory with our sister branches that together encompasses 18+ acres. As such, we have all the ranch rail fencing parts you need. What's more, we don't settle for the material grade available at big box stores. Instead, we work with reputable manufacturers such as Ply Gem & Rail to acquire vinyl of the highest quality.
FOR A FREE ESTIMATE ON RANCH RAIL FENCING IN KANSAS CITY: