High-Quality Playground Screening in Kansas City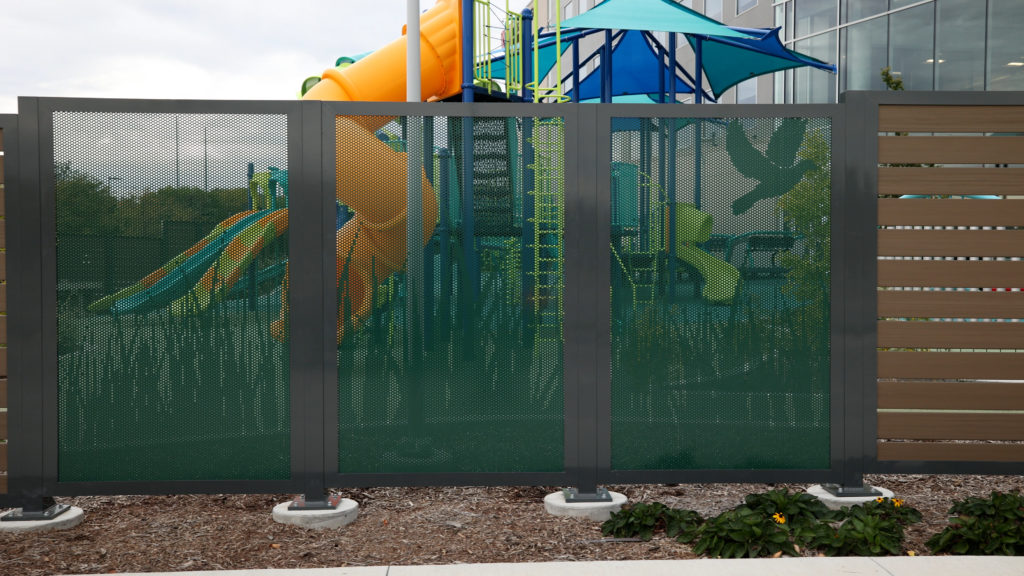 It's no big mystery why playgrounds in Kansas City are a common venue for socializing. Open to school communities and/or general neighborhoods, these wonderful complexes with their playtime structures bring kids together while their parents often watch from the sidelines and get to know each other as well. (So, in addition to providing an afternoon's entertainment and stimulating exercise among kids, playgrounds can help nurture community relations!)
Our sister division American Playground Company of Kansas City provides top-notch fun equipment while our friends at PalmSHIELD specialize in protective, customizable screening. PalmSHIELD's playground screening panels not only secures playgrounds but creates a striking visual that will linger in the memories of those who visit. Of course, since you initially thought about installing a playground fence in Kansas City, the question is: Why should you opt for PalmSHIELD playground screening instead?
The many unique benefits of using PalmSHIELD playground screening.
First off, let us clarify one thing: there is absolutely nothing wrong with installing a fence around your playground. As the top supplier of fence supplies in Kansas City, we also specialize in materials that can be used to assemble top-notch fencing. However, PalmSHIELD's panels do present some unique advantages:
Panels designed in accordance with CPSI standards. CPSI stands for Certified Playground Safety Inspector and any products that accommodate these standards have been engineered in a way to reduce the likelihood of accidents. So installing our panels around your playground in Kansas City enhances safety.
Lack of sharp, unsafe surfaces. Part of what makes these panels extra safe is the lack of hazardous materials.
Visually appealing playground panels. Top-notch industry-specific fabrication equipment manned by a certified staff means that PalmSHIELD can custom design panels to realize a certain aesthetic. The panels can be designed so as to complement your building exterior and any community standards, as well.
Reliable playground security. PalmSHIELD's panels have been engineered in a way to prevent unauthorized entry. Even with tools, intruders will have difficulty gained access when the gates are closed.