Partner with Us! Electricians and Access Control in Kansas City.
Partnering with American Access Company allows you to take jobs regarding automatic gates
Our Part:
Automated gate installation
Gate repairs & maintenance
Expert advice and product demonstration
Sourcing gate parts
Your Part:
Electrical wire installation
Electrical maintenance
Project management
Customer calls & billing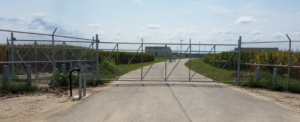 Electricians and access control partnerships in Kansas City come with many benefits. The demand for automated gates has grown substantially over the last few years, and every customer who installs one of these on their property needs your services. Without your professionally installed electrical wiring, their gates and access control devices won't function. As for the challenges that come afterward (gate installation, gate maintenance and repair, answering questions about access control), that is where American Access Company comes in. When you partner with us, you have someone who can handle the heavy lifting once your electricians have finished their part of the job.
American Access Company is the Midwest's top provider and installer of automatic gates. As such, we can handle everything from gate installation to showing customers how access control works. We also take care of future gate maintenance and repair issues. So, how does this partnership work? You remain the project manager. When customers call about automatic gates and/or access control, you arrange the work. You handle the electrical work, we handle everything else, and you bill the customer. When customers call about future gate works that doesn't require electrical maintenance, you remain the project leader and continue to handle customer billing.
In summary: partnering with American Access Company means more jobs and more revenue!
Partner With Us
Call 913-307-0306