Why You Need to Get Heated Photo Eyes
In the winter, your gate is more likely to have issues moving, including opening and closing. Even when the weather heats up a little, there could still be pesky frost forming on your photo eyes. You can try to protect your photo eye with a cover, but no matter what cover you have frost will still occasionally find its way on the lens and/or reflectors. You can also try using a spray to protect the lens and reflectors, but that often still isn't enough.
These problems bring many professionals in the automated gate industry to the same question: what if we could have heated photo eyes? It could save a lot of time and reduce user frustration for those who still have to leave their car to wipe their photo eyes off just to get the gate to work correctly when the weather is cold or damp.
If the concept of heated photo eyes appeals to you, you may be in luck. A few years ago a gate access control company named LiftMaster actually released a reflective photo eye with a heater inside. It is a monitored photo eye that meets the UL325 safety standards. The 10- 40 or 8-28 VAC at 2 amps max heater can be wired into the accessory 24VDC power in LiftMaster operators.
This product is not recommended for solar powered units due to the current it draws. For AC powered units, this product is great for anyone who struggles with frost on their photo eyes. It is also thermostatically controlled, which saves the heater for the winter months. This brand-new heated photo eye is groundbreaking in the automatic gate market.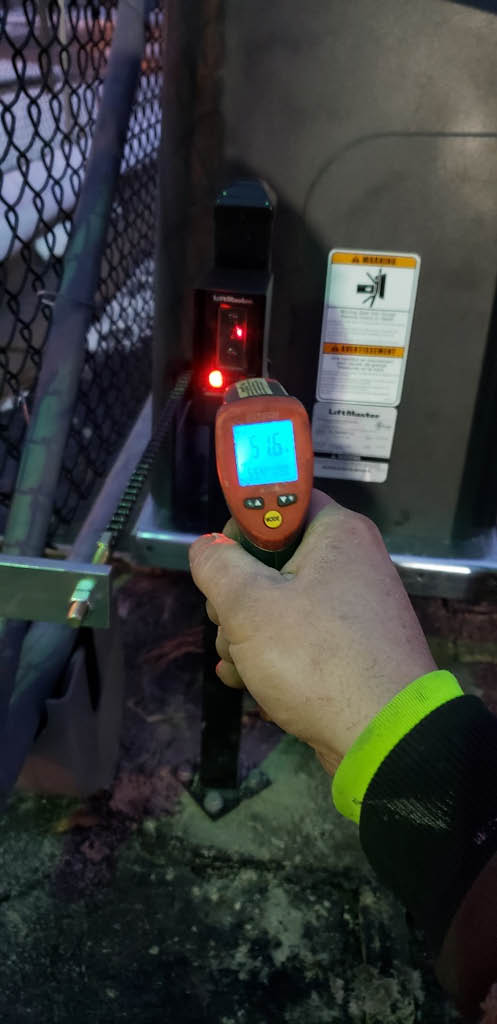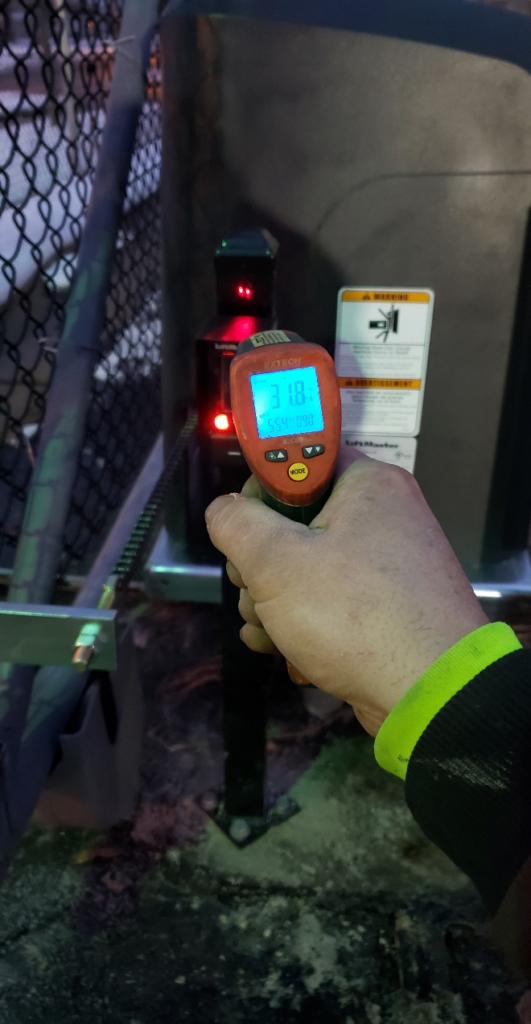 The pictures above show two readings that were taken with an infrared thermometer. The reading of LiftMaster's reflective photo eye shows a temperature of 51.6 degrees Fahrenheit, which will keep frost from forming on the lens.
The second reading is directed at the steel post that the photo eye is mounted on. The temperature reading of the mounting post is 31.8 degrees Fahrenheit, which is below freezing. A temperature that low could then cause frost to form on the lens.
To our professionals at American Access Company, it's no question whether we think our customers who live in cold climates should invest in a heated photo eye or not. If you are tired of getting out of your car to remove frost from your photo eyes so your automatic gate will work correctly, send an online request today!