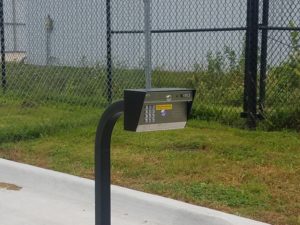 Choosing and installing access control can seem like a challenge, but American Fence Company of Iowa prides themselves on their knowledge and ability that will make it an easy and straightforward process. They understand that the quicker you can get through your gate, the better. With a combined experience in gates and access controls of over 100 years, American Fence Company of Iowa can construct an access control system that meets your specifications.
American Fence Company of Iowa is fully capable of automating your swing gate. They have experience installing hundreds of gates in their many years of operation, ranging from 8 feet to 70 feet wide. They are prepared to tackle the job, no matter the size of your gate. Swing and slide gate operators are alike in many ways, the main difference between the two is their different opening mechanic.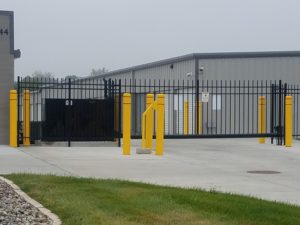 Cantilever gate operators allow you to stay in the comfort of your vehicle as they open your gate. There are many different access control devices and options, so you can create a system that meets all your needs. For example, you can install a closed-circuit camera for the ability to see who is trying to get through the gate. You can install a free exit loop if you would like a quick and easy exit, as it would open the gate automatically once it's driven over.
Vertical pivot gates are a common solution in scenarios that don't have enough room for the storage of a slide or swing gate. This style of gate can be equipped with all of the mechanisms available on other styles of gates.
There are solar options for most of the access controls listed above. These options are a reasonable and economical alternative to running an electrical line to your gate's location. Before making the decision to commit to the solar option, there are a few things you need to consider. Most importantly, what amount of sunlight reaches the area and how often will the gate be in use?
American Fence Company of Iowa would be more than happy to discuss your gate access control options today. Please call them at (515) 265-6100 or submit an online request.