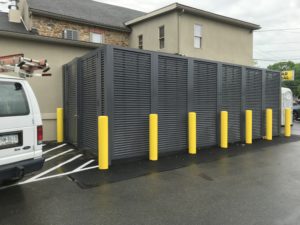 The first medical marijuana dispensary was opened in Allentown, Pennsylvania on June 12, 2018 and PalmSHIELD was a part of this momentous day. A PalmSHIELD horizontal louvered enclosure is installed at Mission Dispensary by ProMax Fence Systems. The mechanical equipment screening fits in very nicely with the exterior of the building by complementing its unique design and cool-tone accents.
ProMax Fence Systems is a fence contractor in Reading, Pennsylvania, and they have become an expert at installing PalmSHIELD projects. They have installed our product on multiple occasions, and after taking a look at how they installed the enclosure at Mission Dispensary, we think you'll agree that they create an amazing finished product. All the seams of the enclosure are tight and it stays level throughout even as the ground begins to slope. We commend ProMax Fence Systems for another amazing PalmSHIELD installation!
This project implemented Gorilla hinges as well as an internal locking device. Due to the gate's size, it needs strong, sturdy hinges. A butterfly design is used in the Gorilla hinges, bolt holes tapped and pre-drilled and half inch mounting plate.
PalmSHIELD is America's leader in mechanical equipment screening due to our unique panel designs and the fact that we have the industry's largest louver. Our catalog goes far beyond horizontal louvered enclosures, including self-standing and rooftop screening, perforated screening, wire mesh, and more. Every screen project is a custom project.
To see the wide variety of options PalmSHIELD can offer you or if you have any questions for us, please visit PalmSHIELD today.